Static Eliminator-lonizing Air Guns

PRODUCT OVERVIEW
Ionizing Air Gun Model LG

The LG "Light-weight Gun" ionizing air gun

The HAUG LG ionizing air gun is light weight and easy to handle with its service-friendly handling, is a peerless innovation in the field of elimination of dust and charges. Heavy-duty users and others will appreciate its lightweight at only 480 grams (before air hose and HV cable).

IONIZING AIR GUN FUNCTION
This product is based on the neutralization of "spot charges" by means of bipolar ions.

The head of the device is enclosed by a sheet material shield, which serves both as mechanical protection and counter-electrode. Due to the special shape of this shield, bypass channels are created, which assist an efficient six-chanel blowing nozzle by stabilizing the airflow. The airflow can be adjusted exactly in accordance to the application – particularly useful for the treatment of small pieces. A power pack provides the required voltage.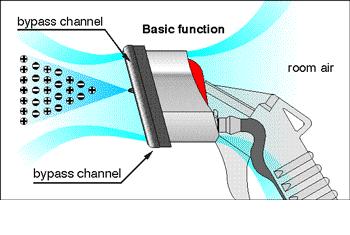 ADVANTAGES
Operating facility: The LG Gun consists of few individual modules, each of which is exchangeable. The high-voltage cable can be extended, shortened or exchanged.
Ergonomics: Modern industrial design – well-thought-out down to the last detail. This device can be used conveniently and efficiently by left and right handers.
Ecology – economy: The utilization of the intake air through bypass channels
Lightweight and quiet: The LG creates remarkably little noise and its low weight makes it easy to handle – 480 grams before air hose and HV cable

APPLICATIONS
The LG is an indispensable production aid for film processing, electronic manufacture, and precision mechanics. This device has also proven to be very reliable and efficient for the manufacture of measuring devices and control gears, for pcb assembly as well as for screen and pad printing and other printing procedures.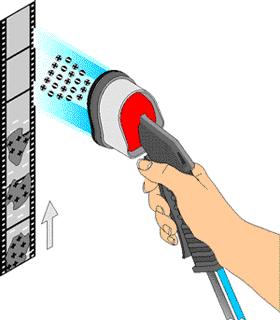 CLEANING AND MAINTENANCE OF IONIZING AIR GUN
Regular and careful cleaning will ensure long service life and constant efficiency.


INFORMATION
When the application calls for a hand held static elimination device the ideal product is an Ionizing Air Gun. Important features should be ergonometric design, weight and flexibility. Cable should be fully shielded especially with anti-static guns to have adequate life expectency.

The Haug Ion Gun is ergonometrically designed, "repairable", and extremely powerful for applications where a flexible hand-held unit is required. Cable is lightweight, and fully shielded. This unique design consists of specific parts so that they can actually be repaired by replacing the damaged part, either by returning to Nex Flow or ordering the part and repairing it in the field. Due to the often rough handling ion guns receive in an industrial envinment, the Haug Ion Gun is an ideal choice against inferior and low quality, unrepairable products. The Ion Gun comes with fully shielded and flexible cable and the patented safety connector insuring the ultimate in safety and quality in the field.

SPECIAL NOTES
Haug static bars all come with a patented connector to assure safety in operation and maintenance. Field repairable, it prevents a connection if the static bar is removed or attached while power is still on at the power supply.

Cable is FULLY SHIELDED unlike some manufacturers which claim shielding which may only be partial. This results in much longer life for Haug products.

REPAIRABLE POWER SUPPLIES – almost unheard of in the industry, Haug power supplies are repairable and come with a 2 year warranty.
PERFORMANCE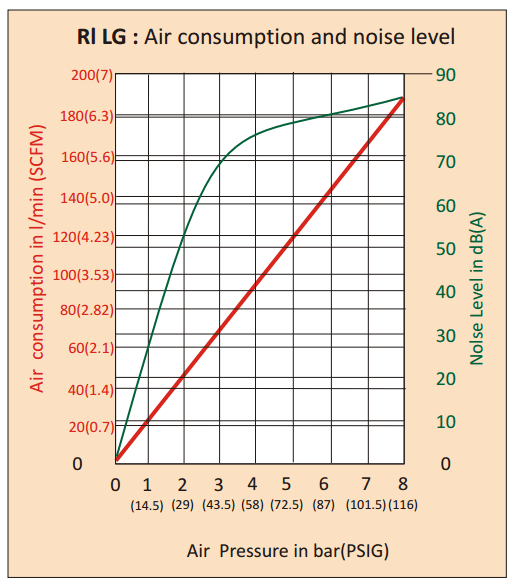 DIMENSIONS