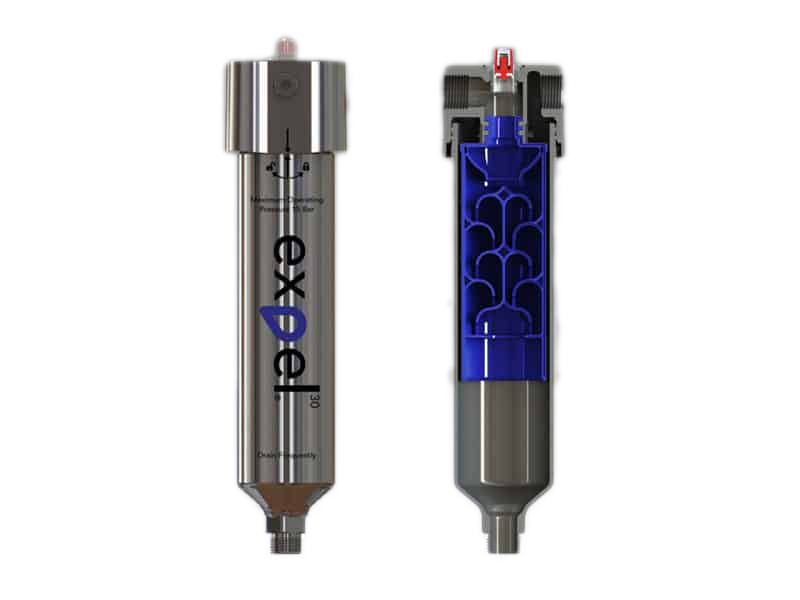 PRODUCT OVERVIEW
Many compressed air and even other gaseous systems have problems with water and maybe oil in the lines. Even if systems are well designed and built, somehow water gets into the system. Even if the system has filtration to address water, oil and particulate, another problem arises from lack of care of the filters. Membrane filters need to be checked and maintained.

Exceptional compressed air quality guaranteed. The Expel compressed air filter will dramatically improve compressed air systems throughout the industry. The unique patented design allows it to efficiently remove 99.9999% of liquid, oil, water and removes other contaminants down to 1 micron when installed at point of use.
FEATURES
BENEFITS
- Worlds first Cleanable, Reusable Compressed Air Filter
- No Increase in Pressure Drop Caused by Blocked Filters
- No Power Source Required
- Significantly Reduced Life Cycle Costs
- Easy to Install & Maintain
- Instantaneous Recovery from Pulsed Flows or Stop Start
- All Spare Parts Available
- 30 cfm Rated Flow Rate
- 15bar(g)Maximum Pressure
- 5 Year Manufacturer's Warranty
- ½" & ¾" BSPT / NPT Inlet / Outlet Connections
- Removes 99.9999% of Liquid Water, Oils
- Removes 99.9999% of Particulates down to 1 Micron.
- Grade 304 Stainless Steel Body and Head
- Pressure Indicator as Standard
- Optional Pressure Gauge.
TECHNICAL DATA
| | |
| --- | --- |
| Flow Rate For a 7 bar(g) System | 5 – 30 cfm |141 – 850 litres/min |8.5 – 51 m³/hr |
| Operating Pressure | 15 – 217 psi(g) | 1 – 15 bar(g) |
| Operating Temperature | 32 to 176 ⁰F | 0 to +80 ⁰C |
| Maximum Recommended Inlet Temperature | 95 ⁰F | 35 ⁰C |
| Particulate Removal | 1 micron |
| Inlet/Outlet Connection | ½" NPT/BSPT |
| Drain Connection | 1/2″ NPT/ (m) BSPT |
| Weight (Out of Box) | 4.58 lbs/ 2.08 kg |
| Product Dimensions | 11.5 in x 3.1 in (293 mm x 80 mm) |
| Material (Housing) | Stainless Steel |
| Material (Internal) | ABS |